Robert Leslie Stewart
August 04, 1916 to March 15, 1997
IN REMEMBRANCE OF MY FATHER
He called me John or Skeeter (as he did several others); I called him Fred, as in Flintstone. Remembering..., the task and the pleasure are interfused and intense. The increased reality that he is alive in you brings much warmth, some strength and some fear. Hello Dr. Jekyll and Mr. Hyde, I am my father's child. In so many ways he was my Hero. Like so many Heroes there was a great deal of mystery about him. He was contradictory to his sermon. He was caught in the warp of life experiences and social values. A burden and frustration that he would always fight. It was the fight in him that I loved most. He was bigger than life, he was more than my father, and he was better than any movie I can remember. In his later years I guess I really was a fan. Like most fans, and like him, I loved him or I disliked him, not much in between, except I did always respect him. His passion and his contradictions will always haunt me, for they are also a part of me. He shared a few of my battles and some of my victories. Most often he seemed to represent my adversaries which only increased my challenge. I must confess, I am also a fan of The Man From La Mancha. In his passing I am stronger, some of the contradictions can rest. I never cared much for what the neighbors thought and He would have you believe the same, however beware, we all knew he was "The Neighbor".
I treasure The Man From Bisbee who was my best friend.
Dad, I miss you and will always remember your moments and all you gave to me. Give my love to Mom. What's that, Where're your women? They are now mine!
See you all in Bisbee...... Meet me at the Copper Queen...... We'll share some stories....
Richard Allen Stewart

April 14, 1997

"THE FIRST GENERATIONS"
This is a large document and will require five minutes to open.

The following family members are featured:

THE STEWARTS

JAMES SINCLAIR STEWART

………………………… Page 30

JAMES DANIEL STEWART

………………………...… Page 37

JAMES STEWART (BAN)

………………………......… Page 54

GRIZEL STEWART

………………………...............… Page 64

WILLIAM STEWART

………………………...........… Page 68

THE STUDLEYS

MARY LEOTA STUDLEY ….…………………….......… Page 81

HIRAM WILLIS STUDLEY

……………………….....… Page 93

HANNAH SELINA BRITTAIN

…………………………Page 98

THOMAS E. BRITTAIN

………………………….........Page 103

ABNER HIBRAY

………………………………….......Page 107

THOMAS PERRY STUDLEY

………………………….. Page 113

THOMAS STUDLEY

……………………………….... Page 117
THE STEWARTS OF BALNAKEILLY
…………………...................... Page 130

THE STEWARTS IN ATHOLL

…………………………....................Page 143

iNTRODUCTION

It was August 4, 1916, when this chapter of the Stewarts began. James Sinclair Stewart at 37 years and Mary Leota Studley-Stewart at 30 years of age had their third child, an eight pound baby boy: Robert Leslie Stewart. Doctor Ferguson delivered young Robert in Bisbee, Arizona, at the Stewart House, #107 Quality Hill at 10:45 p.m.

James Sinclair Stewart had ventured to Bisbee from the Atlantic Province of Prince Edward Island (off the coast of Nova Scotia), where he later met and married Mary Leota Studley from Hodgeman County, Kansas. Thus, the Stewarts and the Studleys.

The Stewarts were married in Flagstaff, Arizona by the Reverend Clyde P. Metcalf, on June 24, 1907, and honeymooned at the Grand Canyon in Arizona. The following children were to become the Stewarts of Quality Hill
S
tanley Llewellyn: Born September 11, 1908

Died March 08, 1976, in Burbank,California

James Clarence: Born October 03, 1910

Died October 29, 2003 in Gardnerville, Nevada

Robert Leslie: Born August 04, 1916

Died March 15, 1997, in College Park, Maryland

Mabel Leota: Born November 08, 1918

Died

Richard Francis: Born October 18, 1921

Died:

Earle L. : Born April 26, 1930

james sinclair stewart and children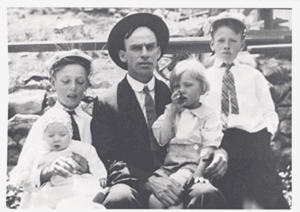 Baby Mabel, Stanley, James Sinclair, Robert Leslie and James Clarence.
All the children were born at home, #107 Quality Hill, Bisbee, Arizona.
Copyright © 2003
STEWART MEDIA GROUP, LLC
Second Edition
WWW.Stewart-Family.Net
This entire book is password protected.
For access permission you may contact
R. Stewart at